Despite the huge boom in wild swimming, most of England's rivers and reservoirs are still out of bounds. Now lobbyists are diving into the debate…
One Saturday morning in April this year a group of swimmers assembled on the bank of Kinder Reservoir in Derbyshire and slipped into the icy pond. Signs reading "Danger Deep Water" and "Keep Out" surround the reservoir, which is operated by United Utilities, yet the 18 people were untroubled by the warnings. They had signs too, handmade placards held aloft as they bobbed together. "The Right To Swim", read one.
To an observer, one head will have stood out among the party. Owen Hayman, 30, who boasts startlingly bright ginger hair, was the buoyant coordinator of the Kinder Swimpass, a protest swim so named for the mass trespass of Kinder Scout that took place 89 years earlier to the day. The original trespass was an iconic moment in the history of civil disobedience when around 500 ramblers marched over the plateau, the highest in the Peak District, in defiance of gamekeepers and the police. It caught the public imagination and marked a turning-point for the English land-access movement. National parks, footpaths and the right to roam are considered part of its legacy. Access to lakes, rivers and reservoirs are not. In England, Wales and Northern Ireland, inland waters – and who is entitled to enjoy them – remain contested territory. Hayman and the other swimmers that braved the cold hope to change this.
Hayman, a horticulturist, grew up on the coast where the sea always beckons, unrestricted, before moving to Sheffield for university. There, he turned to the reservoirs that dot the region, ignoring the signs designed to deter him. "I started to wonder: why isn't this allowed?" he says. "Are these dangers what they say or is it actually just myths?" He discovered that most of Europe permits swimming in reservoirs and that in Scotland public rights of access to inland waters are enshrined by law. "That's when I realised this is crazy," he said. "There's no reason we shouldn't be swimming in these places."
In 2016, he founded the Sheffield OUtdoor Plungers (Soup). It's one of an impressive number of wild swimming groups with names that point to the eccentric British sensibility of swimming in a moderate climate and actually enjoying it. There's FART – the Frensham Aquatic Recreation Team – Team Dash & Splash, the Isle of Sheppey Bluetits, Blue Balls Cold Water Swimming… I could go on. Soup was primarily a touchpoint to coordinate swims, but as with many of these groups, a hum of rebellion courses through the veins of its members. "As a group we are, obviously, advocating trespass," says Claire Brown, 41, a Soup group administrator who took part in the swimpass, along with her 11-year-old daughter. For Brown, that day felt like a piece of history. "Hopefully we will look back on it as a pivotal moment."
The battle over access to blue spaces has intensified. Wild swimming has surged with such ferocity over the past decade that even among its disciples it is now hard to discuss without an eye-roll ("We used to just call it swimming!"), and the banks are bustling. The pandemic, which left many with little to do but seek entertainment on their doorstep (cue jumping into freezing water), has only increased its allure. Soup membership has doubled in the past 12 months and now counts 10,000 on its Facebook group. Membership to the Outdoor Swimming Society grew by a third in 2020. Swim England counted 2.1 million people who prefer to swim in open water in 2019; a report by Outdoor Swimmer suggested that participation may have increased by between 1.5 and three times.
As pressure grows at popular spots it has led to a number of flashpoints as swimmers assert themselves against the laws, policies and landowners that so often obstruct the activity. When King's College Cambridge banned wild swimming at the Grantchester Meadows in July, a petition opposing the decision drew 20,000 signatories and a protest swim was called. Swimmers who take to Bristol harbour have continued to flout a ban on the activity and are campaigning for a designated swimming area. When the City of London Corporation introduced compulsory charges at the Hampstead Heath bathing ponds this summer, locals marched on the heath with placards.
In Roger Deakin's ode to wild swimming, Waterlog, the writer and environmentalist teases and provokes those who uphold a conservative, privatised vision of the land. Were Deakin still alive today, one imagines he would be pleased to hear of the agitation now stirring on English waters. In one altercation recollected in his book, he replies "sweetly" to an irate groundskeeper who accosts him post-swim. "Surely we should all have access to swim in our rivers just as we should be free to walk in our own countryside," he says. "Don't they belong to all of us?"
In August I drove up to Derbyshire to meet members of Soup. At Broomhead Reservoir I found Claire Brown waiting for me beside a sign: "Cold Water Kills – Bathing Prohibited." We're here to swim. The sign says the water is 12C all year round. "I'm not saying they're lying," says Brown, who has dark brown hair in a ponytail, glasses and a nose piercing. "But I'm not sure where they are taking that measurement from."
Wild swimming has always had a subversive streak and since the pandemic the games of cat and mouse have heightened for Soup members. Brown tells me that last spring, after three group swims were intercepted in quick succession, she realised there was actually a mole from Yorkshire Water in the Soup Facebook group. The swimmers were forced to stage a polite eviction of their own.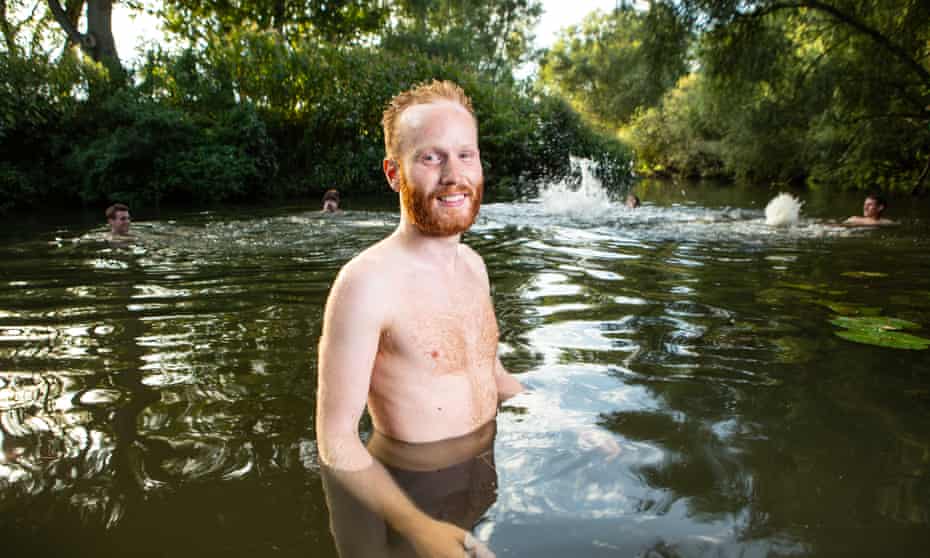 Broomhead is Brown's "gateway reservoir". It was the first to draw her in the midst of a heatwave five years ago and she fosters a strong sense of ownership. As we enter the water, which has a dark reddish tint "like a brew", she gives a running commentary on its features: a section of the bank that drops off more steeply; a cooler patch from an in-running stream; where there are rocks; to stay away from the dam – certainly not to jump off it… Swimming is made safer by a knowledge of the water and campaigners balk at "scaremongering" that, they argue, would be better served by clear information. When you take a dip and realise it is far warmer than 12C – and are not immediately sucked down a giant plug hole – one does question the integrity of the other warnings, even those that should be heeded. "If they are transparent about the risks," said Brown, "people will trust it and make informed choices."
Safety has long been used to justify swimming bans, particularly in reservoirs, though they are arguably less dangerous than the sea, lakes or rivers. The members of Soup are eager to cooperate with the water companies and local authorities to develop constructive ways to educate people, but they say they face an entrenched perception of swimming as a liability (despite case law demonstrating otherwise). In June, Mark Seymour, United Utilities catchment manager for Manchester, took a direct shot at experienced swimmers like Brown: "These open-water swimmers could indirectly be the cause of another drowning tragedy," he said, before doubling down: "Reservoirs are completely unsuitable for swimming of any kind."
Read more the guardian