eagulls, ships, and crashing waves sing to the residents of Mahón, a storied town on the Spanish island of Menorca. In an 18th-century villa on one of the oldest streets in town, this seaside symphony weaves seamlessly through layers of history. The house was most recently rehabilitated by the Madrid-based designer Lorenzo Castillo for one of his longtime clients. "Above everything, Lorenzo is an antiques dealer," says the man, who has commissioned 10 projects from Castillo over the last two decades. "Because of this, he is very coherent in how he blends fabrics and furniture. The house in Menorca is a mishmash of things, but there is a connecting thread."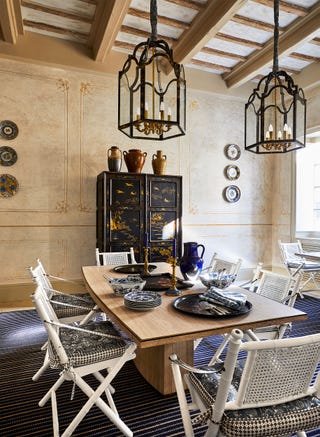 The dining room's Willy Rizzo tables and Maison Jansen chairs are all vintage, the Qing dynasty cabinet is from Isabel Martínez, and the bronze and crystal pendants are custom.
In this instance, the client, a father of four who lives in London and Madrid, proved a congenial copycat; he asked Castillo to find him a summer house similar to the designer's own retreat in Menorca. Castillo did one better and found his client a house on his very own street. For the designer, there is no better place. "Even the color of the water here is unique, changing from turquoise to deep green depending on the color of the sand," Castillo says of the island's allure. "I wanted to incorporate all of the feelings and sensations you get from being here through color, layering, mixing patterns, and natural materials."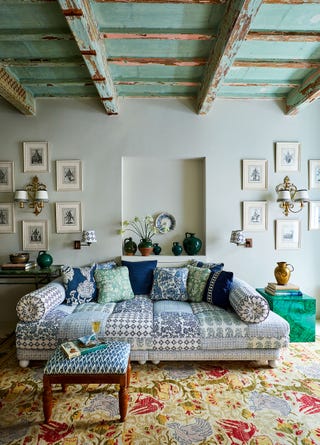 The first-floor sitting room doubles as a guest bedroom, with a custom daybed upholstered in a patchwork of fabrics from GP & J Baker, Lewis & Wood, and Castillo's own textile collection for Gastón y Daniela, available from Kravet. The custom side table was painted to mimic malachite, the Renaissance-style, mid-20th-century rug is from Real Fábrica de Tapices, and the ceiling was scraped back to the original colors.
Apart from its stunning natural setting, Menorca's draw owes much to its rich history. The island, which is a UNESCO World Heritage site, has long been a lure for outsiders, playing host to the ancient Greeks and Romans as well as the Muslim caliphs who occupied the Iberian Peninsula in the 10th century. Later, Menorca switched hands among the English, French, and Spanish due to a succession of wars and treaties, leaving traces of influences from Georgian to Regency to Castilian. In this melting pot of periods and places, Castillo concocted a delicate confection of a home informed by his background as an art historian, dealer, and designer. "The first time I saw the house it was in its pristine original state," he marvels. "We started with a long restoration, unearthing the old wall colors where we could, and replacing wood beams only where necessary." Floors that could not be saved were retiled, setting a neutral base for patterned textiles. Lighting came next, followed by contemporary art and antiques of the sort that only an expert like Castillo could secure during a pandemic.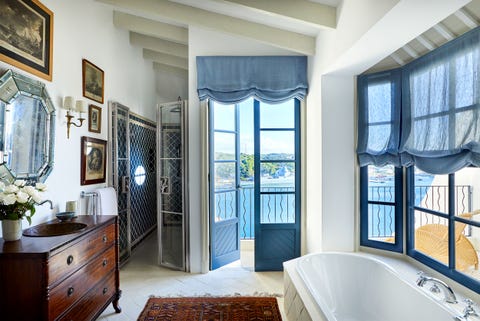 His client needed a home that could accommodate intimate family gatherings as well as large convivial celebrations. Castillo added bedrooms above the old stables and on the home's lower level to host a never-ending string of guests. In the light of day these lucky visitors mingle with the homeowner and his children in the home's public spaces, where the blue and white palette reflects the dappled light of the harbor of Mahón, which the house overlooks. Breaking up the oceanic hues are tomato reds, tart ochers, and earthy mustards, along with greens that slip in by way of art and collections of malachite and maiolica.
Some of the most beautiful colors in the home lay hidden from view: In the dining room, Castillo carefully unveiled the underlying Georgian stucco work on the walls—a trace of England's involvement in Menorca—which provided a backdrop for 18th-century plates from Valencia, Spain. The relatively spare room, which is Castillo's favorite space in the house, centers on a pair of Willy Rizzo tables surrounded by ivory-hued Maison Jansen chairs.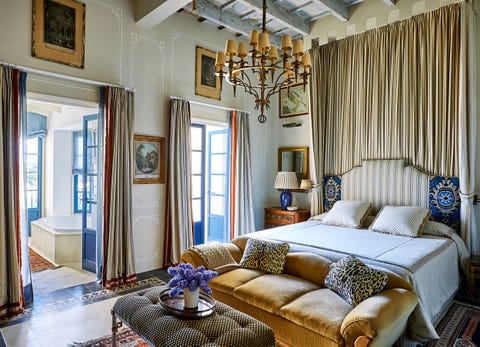 The primary bedroom's custom headboard is covered in an antique ikat and a Güell Lamadrid stripe, the Art Deco sofa is French, and the Maison Jansen bench is from Isabel Martínez. The chandelier is custom, the antique rugs are Persian, and the 18th-century engravings are French and Spanish.
Pattern play abounds in the home, making what could have been a very intimidating interior quite the opposite: inviting and casual. Leopard print turns up in almost every space, together with antique Persian rugs and curtains in Castillo's own fabric collection. These lush designs are paired with natural materials like cane and rattan, along with antique furnishings featuring such intricate detailing as marquetry and inlay work.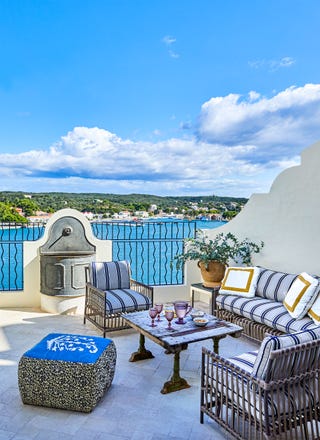 A new terrace takes advantage of the home's view of the harbor of Mahón. The sofa and armchairs' cushions are in one of Castillo's striped fabrics, and the ottoman is covered in antique rugs and a Pierre Frey leopard print. The antique fountain came from a house in Toulouse, France.
With all of Castillo's interventions, the home's beauty still relies heavily on its 18th-century architecture. The entry is graced by a generous sandstone staircase with its original iron railing—"something very unusual, because most staircases from this period were later changed to newer marble," Castillo remarks. Taking the history of the house as his starting point, he continued a narrative of cross-pollination and well-balanced maximalism. "The mix of styles is very evident in Menorca," says Castillo, who manages to transform the island's epochal history into a design that is cohesive and comfortable, nodding to tradition but rooted in the present. "Menorca is the richest cultural and intellectual island in the Mediterranean," says Castillo, "and its homes deserve a very complex style, full of layers, meaning, and drama!"
TOUR THE REST OF THIS TRANSFIXING VILLA