Like the best local intel, this scoop started with a trip to the hairdresser. Minnesota children's book writer Amanda Henke was in the process of building her dream home on Sunfish Lake, a sylvan enclave just south of St. Paul. As she sat in the salon chair, she laid out her design vision to the stylist: The house would nod to her Scandinavian heritage without feeling too sparse; it would offer plenty of space for relaxing with her young son but not be too ostentatious; and it would embrace its lakeside setting without feeling too "Up North."
"I just wanted someone to make it feel like a home the moment we stepped in," Henke recalls. "And he's like, 'I know the perfect designer for you.' "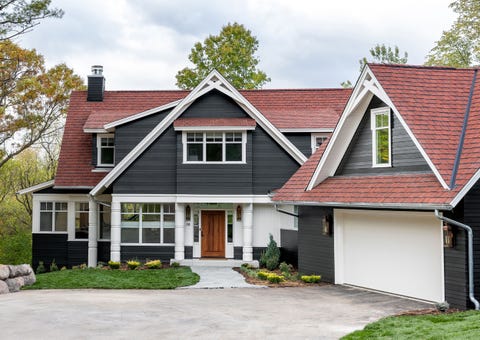 The house's exterior was informed by the historic buildings of local architect Edwin Lundie.
The professional in question was Anne McDonald, who—in addition to overhauling that hairstylist's kitchen—has made a name for herself in the Twin Cities area renovating homes and filling them with grace as well as vintage design treasures. But, as the daughter of a local contractor, her design approach is firmly rooted in reality, too. "I grew up on job sites," McDonald explains, recalling one summer she spent glued to a caulking gun. "I cut my teeth in a way that was very nitty-gritty in terms of what needs to be done on a site."
When the pair met, it was clear that McDonald was the one for the job. Like Henke, McDonald also shares Norwegian heritage (this is the land of lutefisk and Ole and Lena jokes, after all) and a passion for the culture's design aesthetic. "There was all of this mutual Scandinavian love," McDonald says. "I just felt so strongly that we were supposed to be together."
The entry sits alongside a custom stair featuring an intricate cutout design.
And though they agreed that the home should incorporate some strong references to Nordic culture, both designer and client sought a more sophisticated, homier brand of hygge. "I wanted to get away from that clean, sparse, throw-in-a-sheepskin-and-call-it-a-day thing," McDonald says.
Luckily, the house's architects, from a local design office called Plaad, were on the same page. The entire design team was particularly inspired by the work of the Minnesota architect Edwin Lundie, a protégé of Cass Gilbert, who designed family homes in the metropolitan area and cozy cottages on the North Shore of Lake Superior. The resulting two-story building incorporates direct hat tips to Lundie—check out those charming turned porch columns—along with Viking-chic touches like the cross motif at the gables.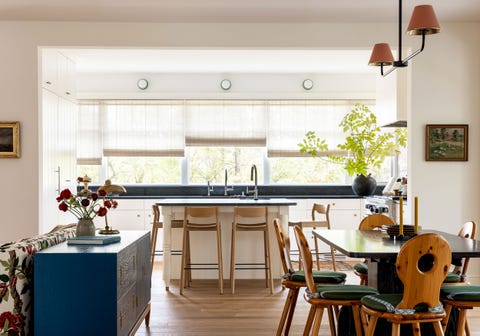 A view to the kitchen and dining areas.
McDonald carried the theme inside, with a look she dubbed "Nordic soft traditional"—as soon as you step through the door, you'll understand what she means. The entry opens to a gracious, light-filled, open-concept kitchen, dining, and sitting area. In keeping with the Scandinavian thread, the floors and walls are pale, the furnishings welcoming and fuss-free, as with a set of adorable vintage wooden chairs around the dining table. In the kitchen, a custom island cleverly features the same detailing on its turned legs as the home's exterior columns.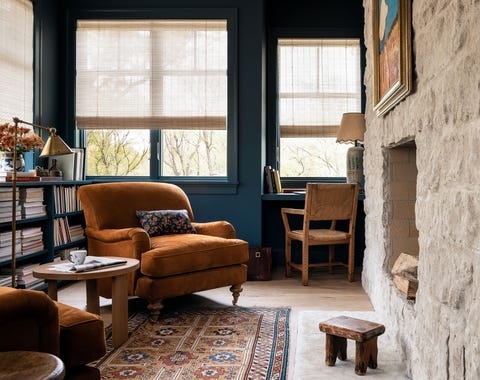 A fireside snug is the perfect venue for catching up on reading, writing, or homework.
The sitting area abounds with soft touches, like a Nickey Kehoe sofa in a blooming floral fabric, translucent checked curtains, and—the room's centerpiece—a fireplace whose stone comes from a local quarry. The lightness of these lower-level spaces is offset by darker timber pieces (take the custom dining table) and an emphasis on deep blue-greens, shades that can be found on everything from the kitchen counters to the walls of a cozy study, or "snug," tucked behind the fireplace. "I didn't want this thing to go farmhouse-y or cabin-y," McDonald says. "I wanted it to feel feminine and special."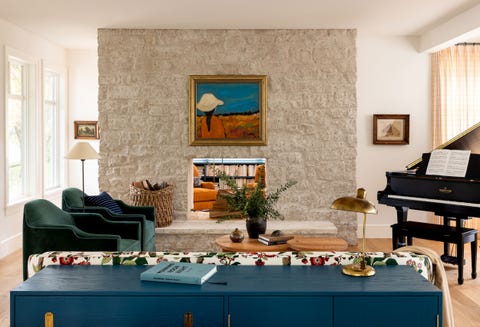 The living room is oriented around a fireplace made from locally quarried stone.
A stair featuring an intricately cut railing akin to a paper snowflake (a detail that McDonald drew herself) takes visitors to the upper level. The tone is decidedly calm here. "It's airy and dreamy—almost like a palette cleanser," McDonald explains. The main bedroom is defined by soft pink walls (painted in Farrow & Ball's Setting Plaster), matching wainscoting, and floor-length curtains in a delicate Décors Barbares floral. The main bathroom has sand-colored zellige floor tiles—"It's really soft and warm underfoot," Henke says—while a midcentury Murano glass chandelier overhead injects a touch of glam without making the space "a sparkle palace," she adds.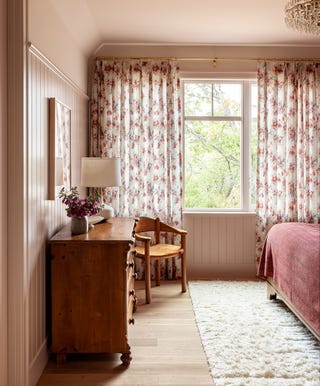 Inside the blush-colored primary bedroom.
One of the most delightful details can be found in the children's bathroom: a wallpaper patterned in a menagerie of critters, including seahorses, snails, and sloths. The print is called Ode to the Unhasty, a celebration of slow creatures in a fast-paced world.
Much like the wallcovering, this house is itself an homage to the slower things in life. Henke, who is preparing to release her debut children's book this year, spends her days cooking with her son, cozying up by the fire, taking in views of the lake, and writing in the fireside snug. The blanketing quiet, along with regular visits from curious turkeys, foxes, and coyotes, makes it feel like you could be miles away from anywhere. But there are still welcome signs of civilization: "We also are on a flight path, which I like because it reminds me that I'm still in the city," Henke says. "It's just enough 'Up North' to feel comfortable."
SEE INSIDE THIS SWEET LAKE HOUSE